Introducing the Network
GHG emissions intensity from livestock farming could be reduced through efficiency and production gains resulting from improved livestock health.
The Animal Health & GHG Emissions Intensity Network is a UK led initiative of the Livestock Research Group of the Global Research Alliance on Agricultural Greenhouse Gases. The aim of the Network is to bring together researchers from across the world to investigate links and synergies between efforts to reduce livestock disease and GHG emissions intensity reductions in order to achieve the following objectives:
To share information on current and planned funding activities in the field of animal health and GHG emissions intensity (GHGe), so as to avoid duplication of effort, identify gaps and help focus research efforts;
To maintain and enhance capacity in this field of research, including the ability of practitioners from the GHGe and animal health fields to interact, and engaging with social scientists;
To encourage and facilitate a joined-up approach from fundamental science to strategic and applied research and research-into-use while avoiding overlaps and identifying gaps and opportunities for collaboration;
To establish common agreement on priority issues and explore funding opportunities to address them, including links with more traditional animal health and agricultural and rural development programmes; and,
To pursue synergies with stakeholders and other relevant initiatives in order to further strengthen global cooperation and networks, including the Global Strategic Alliances for the Coordination of Research on the Major Infectious Diseases of Animals and Zoonoses (STAR-IDAZ), Modelling European Agriculture with Climate Change for Food Security (MACSUR), Global Agenda for Sustainable Livestock (GASL) and FACCE-JPI as well as the World Organisation for Animal Health (OIE), Food and Agriculture Organisation of the United Nations (FAO), World Bank and other rural development organisations etc.
Further information is available in the original Network Proposal.
Network statements
"Healthy animals have lower GHG emissions per unit of output"
"By improving animal health we are reducing GHG emissions intensities"
Network Work Areas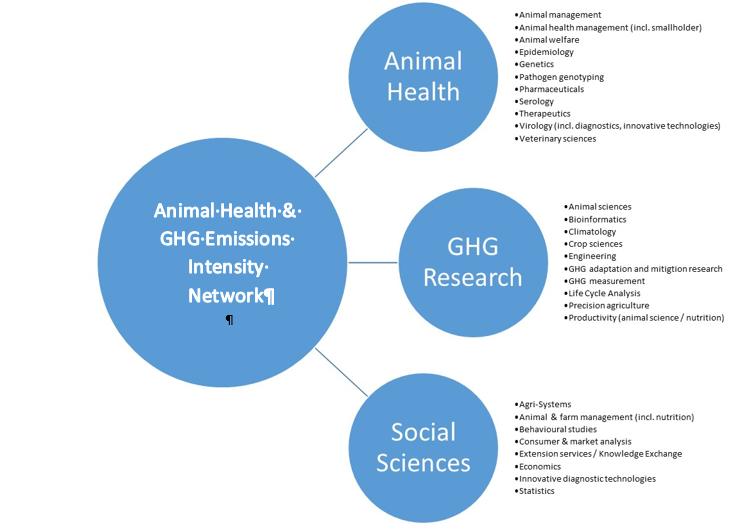 Introducing the Co-ordinators
Ilias Kyriazakis is the Professor of Animal Health and Nutrition at the School of Agriculture, Food and Rural Development at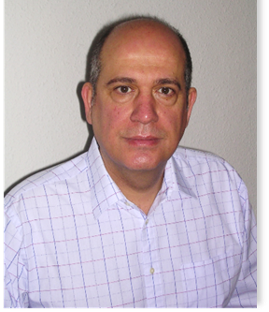 Newcastle University in England and is currently Visiting and Adjunct Professor in a number of leading European and North American Universities.
Ilias hopes to develop and use the Network as a forum for discussion on the interrelationship between livestock health and environmental impact amongst scientists from research communities relevant to this field (e.g. animal science, veterinary medicine, GHG research, systems analysis, economics and food security). He is interested in the development of research agendas on the consequences of different disease control strategies on the GHG emissions of livestock systems, and the dissemination of relevant research findings to a variety of Stakeholders. He expects that through the development of such research agendas the Network will be able to influence funders for directing effort in this field. The Network relies on the input of researchers who are addressing these issues in a variety of livestock systems and in a variety of countries. Ilias hopes that the Network will lead to real benefits to farmer livelihoods, food security and environmental sustainability.
Timothy Robinson is a principal scientist at the International Livestock Research Institute (ILRI) which aims to improve fo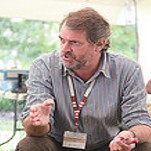 od security and reduce poverty in developing countries through research for better and more sustainable use of livestock.
Timothy would like to see the Network become more global in scope and in particular for the membership to grow from the developing regions of the World. Whilst the contribution to GHG mitigation made by animal health issues may not be the greatest compared, for example, to animal feeding, dealing with it is feasible and is likely to be cost-effective in many situations. There are also very important co-benefits to dealing with animal health issues (in addition to GHG emissions intensity reductions), particularly in developing countries where the burden of disease is greatest. These include, for example, human nutrition and health, and animal welfare.
Network Champions
Role
Actively support the objectives of the Network.
Promote the Network at appropriate events that you may already be attending and represent the Network at workshop and meetings.
Actively seek out and build new relationships with international researchers and stakeholders.
Attend Network meetings and workshops.
Actively participate in discussions at workshops and via electronic communication.
Share information on current research and identify opportunities to build upon this work internationally.
Take a lead position in progressing some of the actions agreed by the Network.
Introducing the champions
Dr Abdul Chaudhry (Newcastle University, England)
Dr Michael MacLeod and Dr Jos Houdijk (Scotland's Rural University College, Scotland)
Professor Wim van der Poel (Wageningen University, the Netherlands)
If you are interested in becoming a Network Champion, contact us at: [email protected]
Events
Recent events
Annual workshop of the Animal Health & Greenhouse Gas Emissions Intensity Network
Tuesday 15 March 2016 at 09:30 – 16:30 
The Animal Health and Greenhouse Gas (GHG) Emissions Intensity Network is a United Kingdom led initiative of the Livestock Research Group (LRG) of the Global Research Alliance on Agricultural Greenhouse Gases (www.globalresearchalliance.org). The aim of the Network is to bring together researchers in relevant disciplines (veterinary science, epidemiology, animal science, modelling, GHG research and food security) from across the world to investigate links and synergies between animal diseases and GHG emissions intensities, and possible GHG mitigation through disease control.
Further information is available in the report from the 2015 Network workshop available at http://globalresearchalliance.org/wp-content/uploads/2015/10/Report_Animal-Health-Network-Workshop-15-March-2015-amended.pdf.
The specific objectives of the workshop were to:
Report on the activities of the Network during the past year;
Share current scientific research in this area;
Progress links with relevant initiatives and identify opportunities for complementary links and co-working projects;
Discuss funding sources for research into Animal Health & GHG emissions intensity research, and continuation of the Network Secretariat;
Formulate the next steps for the Network.
The workshop was held at the SVEPM conference venue (Konventum).
Past events (Event output available on Reports page)
Session on "The relationship between Livestock Health and Greenhouse Gas Emission Intensity: a Win-Win situation" – ALPA, Puerto Varas, 12th November 2015
1st Annual Network Workshop, Dublin, 25th March 2014
African Regional Meeting, Addis Ababa, 5th November 2014
2nd Annual Network Workshop, Montpellier, 15th March 2015
Session on Animal Health and Greenhouse Gas Emissions
– BSAS Annual Conference, University of Chester, 15th April 2015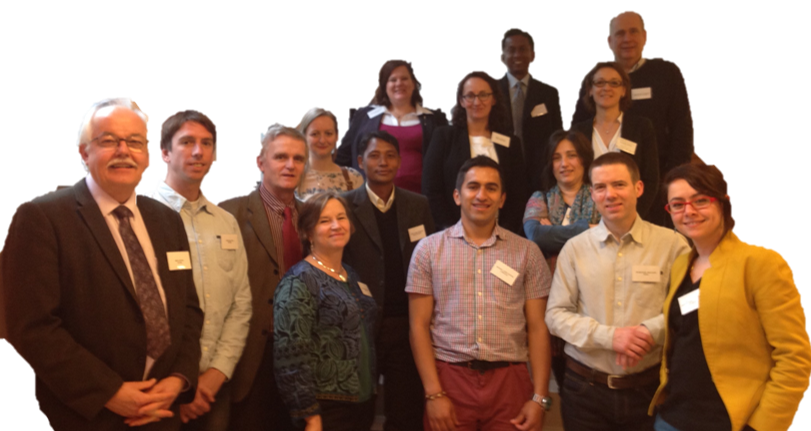 Joint meeting with MACSUR, Reading, 25th June 2015
Joint LRG Groups Workshop, Reading, 26th June 2015
Reports
Summary of Workshops 2013 – 2016
Download the summary report here
3rd Annual Network Workshop, Elsinore, 2016
Download the report here
1st Annual Network Workshop, Dublin, 2014
The first workshop of the Network was held in Dublin on the 25th March 2014 in the margins of the Society for Veterinary Epidemiology and Preventive Medicine (SVEPM) conference. Download the report: Dublin, Ireland March 2014
African Regional Workshop, Addis Ababa, 2014
The first regional workshop of the Network focussed on Africa and was held in Addis Ababa, Ethiopia in November 2014. Download the report: Africa regional workshop report 2014
2nd Annual Network Workshop, Montpellier, 2015
The second annual workshop of the Network was held on the 15th March 2015 in the margins of the Climate-Smart Agriculture Conference in Montpellier, France. Download the report: Montpellier, France March 2015
Joint meeting with MACSUR, Reading, 2015
Download the report here
Joint Livestock Research Group Networks Workshop, Reading, 2015
Download the report here
Relevant Research
Modelling the Impact of Controlling Endemic Cattle Diseases
The aim of this study, Defra project AC0120, was to understand whether GHG emissions can be reduced in the national cattle sector in a cost-effective way, by implementing measures to control endemic diseases or conditions. The project was an interdisciplinary study, which bought together a number of fields (veterinary science, animal production and modellers, for example) to explore possible mitigation measures achievable through disease control interventions, and linking these to economic analysis through marginal abatement cost curves (MACC).
The key findings of the project were that:
The work provides a 'proof of concept' that interventions intended to improve cattle health can be modelled to quantify GHG abatement in terms of scale and cost-effectiveness.
A large number of treatments are cost-effective for farmers, especially in the dairy sector, but uptake is poor so action is needed to inform and prompt change.
Efficiency gains are likely to lead to increased production but price effects are small. A key factor is land use change where land is released from livestock production.
The opportunity for GHG abatement identified in this UK study could potentially be multiplied many times over if applied to cattle and other livestock globally.
Whilst the study focused on an intensive livestock system with good levels of disease control within the UK, the scope for abatement in developing countries is potentially much greater and should be explored further.
This was a complex study with a number of assumptions; including the consideration of diseases individually whereas in practice they exist in combination and interact in complex ways. A further caveat was that land use change impacts were outside the scope of the model. The validity of the assumptions could not be checked within the scope of the project and it was recommended to follow up the project with a more detailed look into one or two diseases to explore a variety of different control approaches.
Quantifying the GHG mitigation effect of intervening against bovine trypanosomosis in Eastern Africa
This project aims to quantify the GHG mitigation effect of intervening against tsetse and trypanosomosis in Eastern Africa and is a collaboration between SRUC, ILRI, University of Oxford and AP Consultants. Livestock are estimated to contribute 14.5% of the total anthropogenic GHG emissions and there is expected to be an increase in demand for livestock derived products. Consequently it is important to meet that demand without facing a proportionate increase in emissions. Improving animal health may be one way of achieving that aim. The project is using an Excel version of GLEAM to compare emissions from 12 production systems, with and without trypanosomosis.
The key findings of the project to date:
The main sources of emissions are enteric methane and nitrous oxide arising from the deposition of organic nitrogen on pasture (either directly via the urine of grazing animals, or via the spreading of the collected manure of housed cattle).
Higher yielding, grazed dairy systems had much lower emissions intensity due to their higher productivity. Variation between the other systems was less marked and was largely driven by productivity.
There is a link between improving productivity and decreasing emissions intensity. The greatest changes in emissions intensity in the four key systems that were addressed (pastoral, agro-pastoral low oxen, mixed medium oxen and mixed grade dairy) arise from changes to the productivity of individual animals and herd structure.
The removal of trypanosomosis had secondary effects on the proportion of adult males used for work, the number of days oxen work, cow replacement rates, slaughter ages and offtake rates, and the rate of herd growth. In areas where trypanosomosis was removed (in the model) there were large increases in animal numbers, through growth or animal movements. Emissions intensities resulting from additional draft power associated with healthier animals were also accounted for in the study.
The final tasks in the current project are to look at the total regional effect of removing trypanosomosis on production and emissions, comparing the costs of different interventions, and outlining implications for modelling disease and GHG relationships.
Contacts
Network Secretariat
Kate Smith (ADAS)
Email: [email protected]
Network Coordinators
Professor Ilias Kyriazakis (University of Newcastle)
Dr Tim Robinson (ILRI)
Network Champions
Dr Abdul Chaudhry & Dr Michael Macleod (UK)
Professor Wim van der Poel (The Netherlands)
Champions in other countries are welcomed
Membership & Communication
AHN is the newest network within the LRG and comprises 79 members across 25 countries, covering each continent. Updates on the Network are communicated in the UK Agri-Science and Innovation newsletter (http://www.ghgplatform.org.uk/Downloads.aspx), the Livestock Research Group newsletter (http://globalresearchalliance.org/research/livestock/#newsletters-2) and on Twitter @AHGHGN (https://twitter.com/ahghgn).
All Network members receive regular email communication and have access to a designated space for sharing information and taking part in forum discussions (https://animalhealthghge.star-idaz.net/login.php?go=%2Findex.php%3Fw%3Dhome).
For access to the members area, contact us at: [email protected]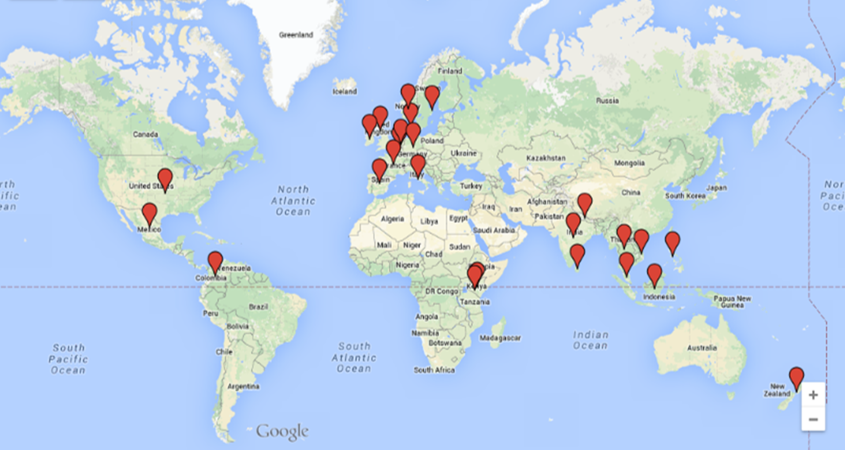 We are looking to increase participation from less represented regions.
Links with other initiatives
FACCE-JPI – https://www.faccejpi.com/faccejpi
MACSUR – http://macsur.eu/
STAR-IDAZ – http://www.star-idaz.net/
GASL – http://www.livestockdialogue.org/
NEAT – http://www.neat-network.eu/
Other GRA Livestock Research Group Networks – http://www.globalresearchalliance.org/research/livestock/