Register for the upcoming Expo Chile Agricola (24-26 August) to attend online sessions (in Spanish) discussing innovation and technology, climate change, rural development and sustainable agriculture. As Council Vice-Chair Chile's collaborative research activities through the GRA will be covered during a session on the first day.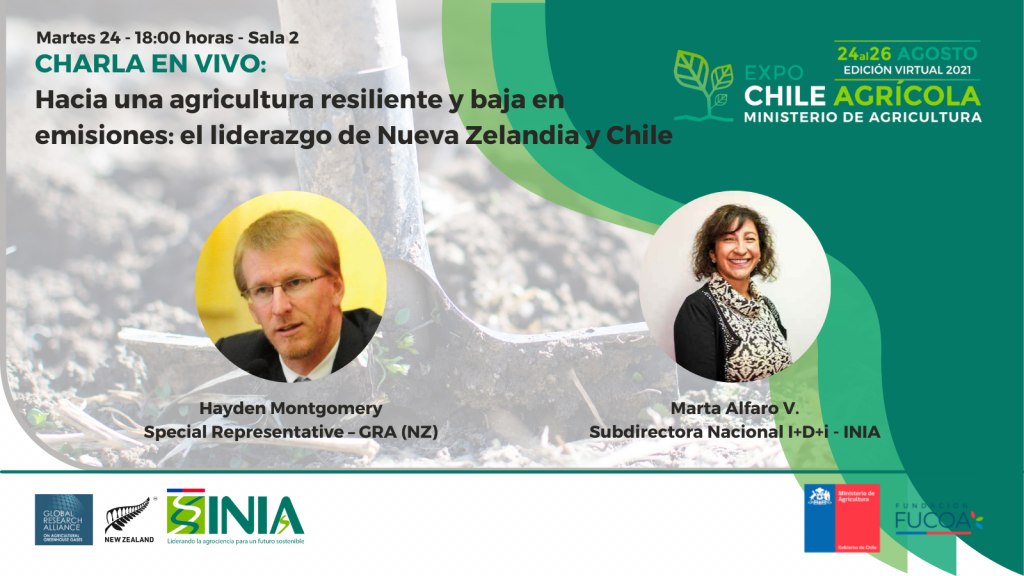 La producción sostenible de alimentos es uno de los temas más debatidos en el mundo. A través de la Alianza Global de Investigación de Gases de Efecto Invernadero Agrícola (GRA), una plataforma internacional que une a más de 60 países, los gobiernos de Nueva Zelanda y Chile han reconocido la importancia de invertir en ciencia e innovación y promover la colaboración internacional para lograr de manera más efectiva ( SDG) y metas nacionales (NDC). Esta charla de Hayden Montgomery (Special Respresentative, GRA) y Marta Alfaro V. (Subdirectora Nacional, INIA) presentará los resultados de más de 10 años de colaboración internacional en investigación y capacitación para la mitigación de GEI en el sector agrícola, y presentará oportunidades para el desarrollo de políticas públicas.
Sustainable food production is one of the world's most hotly debated topics. Through the Global Research Alliance on Agricultural Greenhouse Gases (GRA), an international platform that unites more than 60 countries, the governments of New Zealand and Chile recognise the importance of investing in science and innovation and promoting international collaboration to more effectively achieve global (SDG) and national (NDC) goals. This talk from Hayden Montgomery (Special Representative, GRA) and Marta Alfaro V. (National Deputy Director, INIA) will present the results of more than 10 years of international collaboration in research and training for the mitigation of GHG in the agricultural sector, and will present opportunities for the development of public policies.