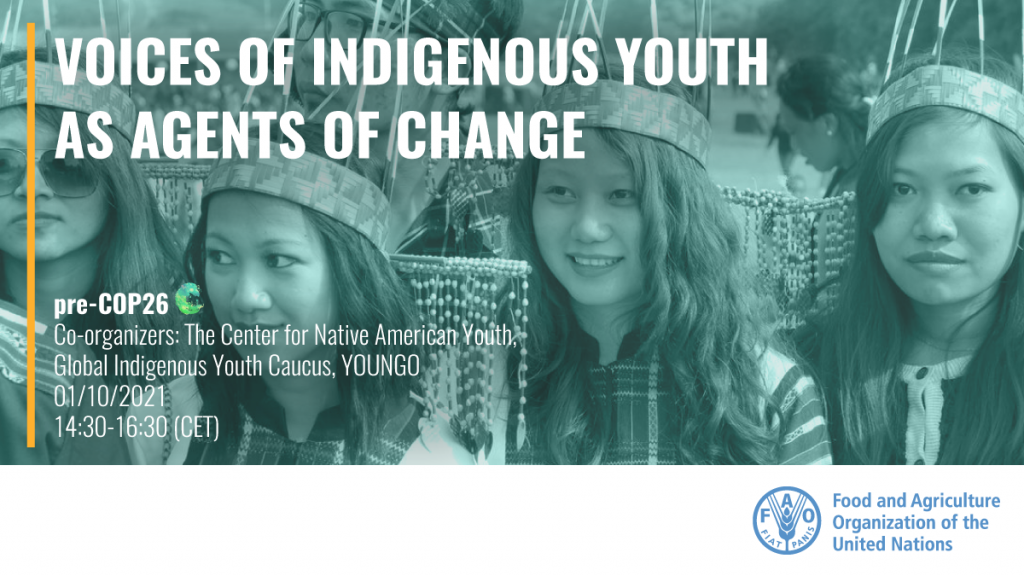 This pre-COP26 roundtable explores how Indigenous youth have perceived and experienced the COVID-19 crisis, including how this crisis has compounded the pre-existing pressures of climate change on their food systems.
During the roundtable, Indigenous youth-led initiatives are presented to highlight the importance of adopting integrated approaches to issues of health, climate change and food systems. The side event is based on the recent FAO publication "Indigenous youth as agents of change – Actions of Indigenous youth in local food systems during times of adversity", a document that demonstrates how Indigenous youth-led initiatives have enhanced resilience in their communities during times of adversity. With this side-event, FAO aims to provide space for Indigenous youth to share their experiences with policymakers who are responsible for international decisions that impact the livelihoods of Indigenous youth.
Veronica Ellis (Ministry for Primary Industries, New Zealand) will be giving a keynote speech, including an update on GRA activities in this space.
Time: 14:30-16:30 (CET). Further information and registration details here.
This webinar is part of the FAO Koronivia Joint Work on Agriculture. Co-organizers include: The Center for Native American Youth, Global Indigenous Youth Caucus, YOUNGO.