The Global Research Alliance on Agricultural Greenhouse Gases brings countries together to find ways to grow more food without growing greenhouse gas emissions. It was launched in December 2009.
On this page you can find more information about the Alliance and why the Alliance is needed.
Read the brochure.
The Global Research Alliance on Agricultural Greenhouse Gases was launched in December 2009 and now has 50 member countries from all regions of the world.  For more information on the membership, please see the Community pages.
The Alliance is focused on research, development and extension of technologies and practices that will help deliver ways to grow more food (and more climate-resilient food systems) without growing greenhouse gas emissions.
The Alliance is founded on the voluntary, collaborative efforts of countries. Its membership and governance arrangements are underpinned by a Charter, signed by all participating countries.
This Charter establishes the Alliance Council, which is the representative body of all member countries. The current Chair of the Council is Japan.
Members of the Alliance aim to deepen and broaden mitigation research efforts across the agricultural sub-sectors of paddy rice, cropping and livestock, and coordinate cross-cutting activities across these areas.  Research Groups have been set up to address these areas of work. These Groups have developed work plans that bring countries and other partners together in research collaborations, as well as to share knowledge and best practices, build capacity and capability among scientists and other practitioners, and move towards breakthrough solutions in addressing agricultural greenhouse gas emissions.
A Secretariat, currently hosted by New Zealand, supports the work of the Council and the Research  Groups. The structure of the Alliance is explained in the following diagram: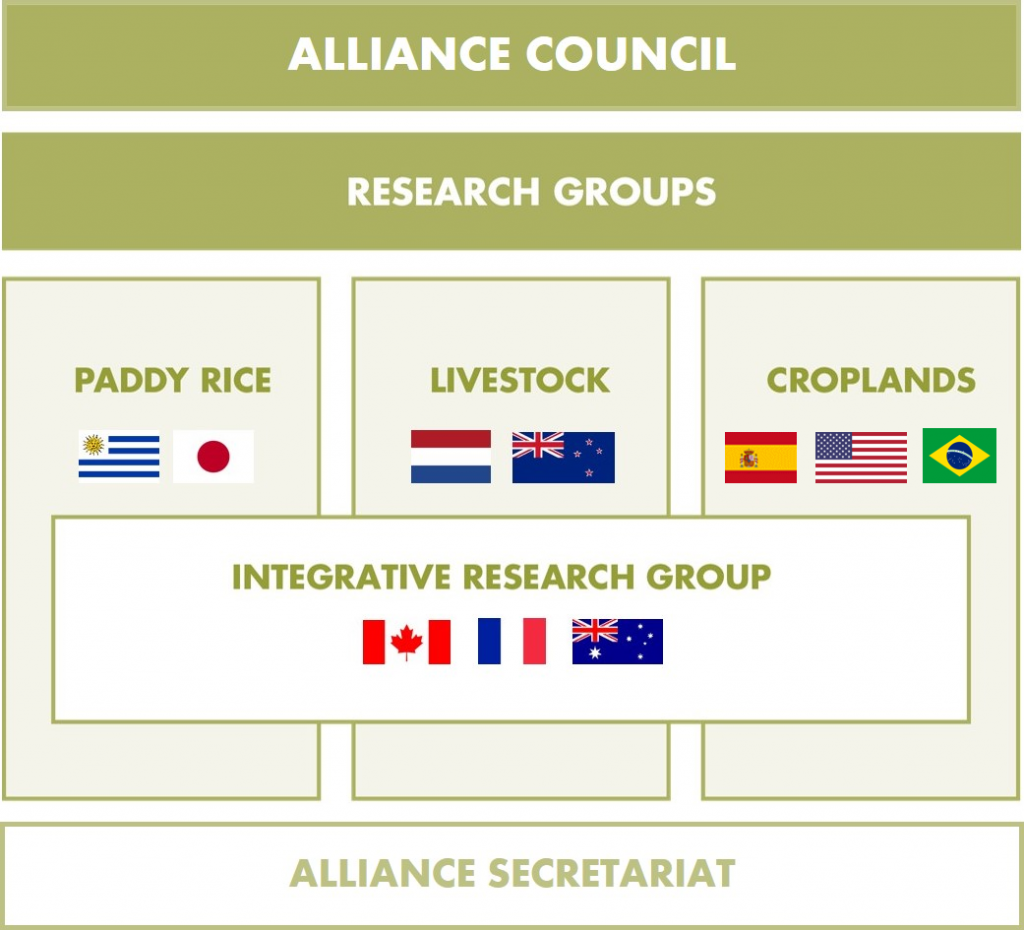 The Alliance promotes an active exchange of data, people and research to help improve the ways that agricultural greenhouse gas research is conducted and to enhance participating countries' scientific capability. Alliance members will work with farmers and farmer organisations, the private sector, international and regional research institutions, foundations and non-governmental organizations to improve the sharing of research results, technologies and good practices, get these out on the ground.
More information about the formation of the Alliance is provided in an editorial for the Carbon Management Journal [PDF] from June 2011.