You've reached the Global Research Alliance Japan page
1. Policy of Japan
Climate change is an urgent global issue in various sectors and agricultural sector is no exception. In response to this, Ministry of Agriculture, Forestry and Fisheries of Japan (MAFF) has formulated its plan for global warming countermeasures in March 2017, with the aim of promoting measures to mitigate global warming in the agriculture, forestry and fisheries sector comprehensively and strategically. In the plan, promotion of international collaborative research on reduction of GHG emissions is stated to be a measure to achieve targets.
2. Japan's contribution to GRA
GRA chair
Japan was a chair of the GRA from August 2017 to September 2018 and hosted the seventh GRA Council meeting on 29 and 30 August 2017 in Tsukuba, Japan. It was the first GRA Council meeting in Asia. The meeting was attended by 74 representatives from 27 countries and invited guests including observer countries and partners. Following the meeting, JIRCAS – NARO International Symposium on Agricultural Greenhouse Gas Mitigation was held, and an excursion was organized to visit the Institute of Agro-Environmental Sciences, NARO and its free-air CO2 enrichment facility.
*JIRCAS: Japan International Research Center for Agricultural Sciences
*NARO: National Agriculture and Food Research Organization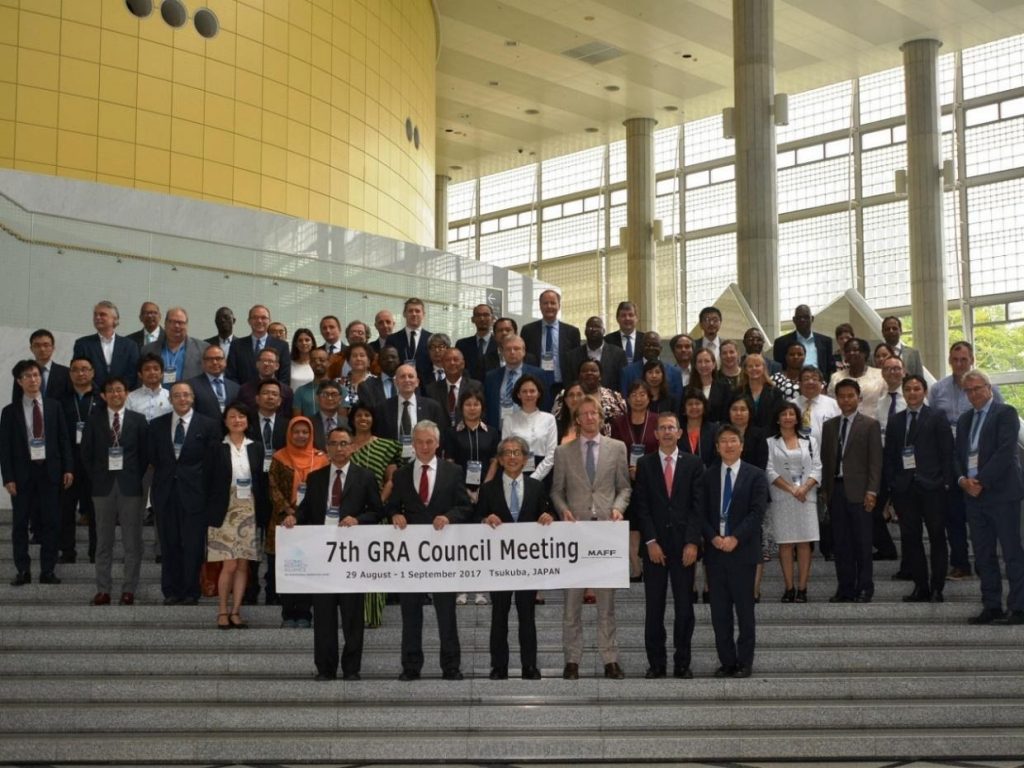 Research collaboration
Japan has been supportive to the GRA Research Groups and Flagship projects. One example would be a series of international collaborative research projects called MIRSA from 2012 that the MAFF of Japan has provided financial support. From 2018, MIRSA 3 project is under implementation by researchers from Japan, Viet Nam, Indonesia, the Philippines, and IRRI, as a part of the flagship project of Paddy Rice Research Group. This project aims to develop technologies combining water management technologies, manure management, and selection of cultivars, which not only reduce greenhouse gas emissions but also improve yield or income.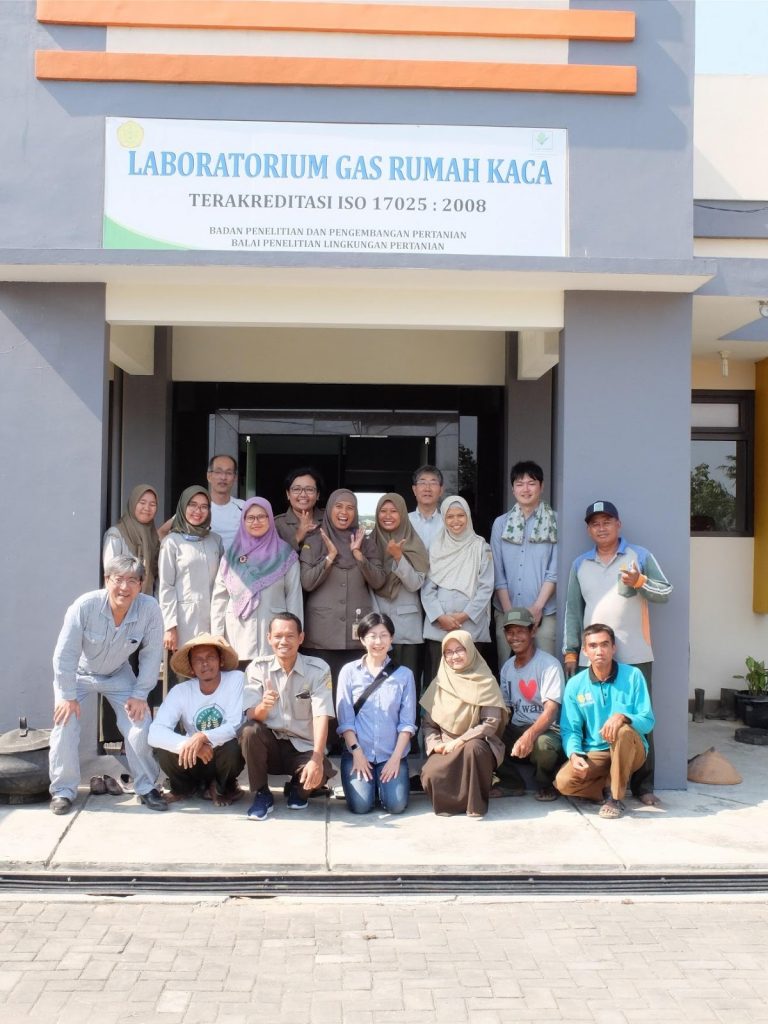 Capacity building
Japan initiated a capacity building project in purpose of providing rice producers and researchers with the skills and a better understanding of the merits of adopting an integrated management technology that combines fertilizer and organic matter management with AWD (alternate wetting and drying practice), which was funded by APEC in 2018.
In the project, a workshop was held in Bangkok, Thailand in collaboration with the FAO Regional Office for Asia and the Pacific (FAORAP), the Joint Graduate School of Energy and Environment at King Mongkut's University of Technology Thonburi (JGSEE/KMUTT), and many other organizations with attendees from Cambodia, Chile, China, Indonesia, Japan, Lao PDR, Myanmar, Malaysia, Philippines, Singapore, Thailand and Viet Nam in October 2018, and a capacity building training was held in Parral, Chile with attendees from Brazil, Chile, Costa Rica and Japan in November 2018. The project was implemented in strong collaboration among GRA members to disseminate our research results related to the paddy rice flagship project, overseen by MAFF of Japan.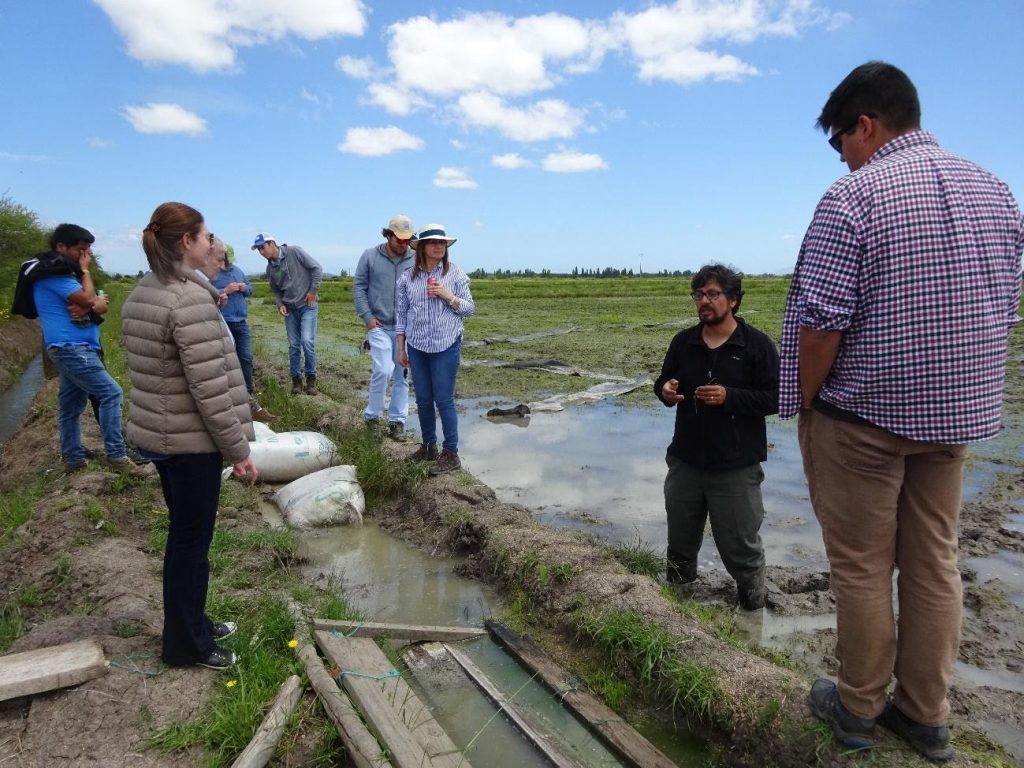 3. Activities in Japan
Research Group Activities
Research Groups are formed which correspond to four research groups of GRA to strengthen engagement of researchers in Japan in GRA activities.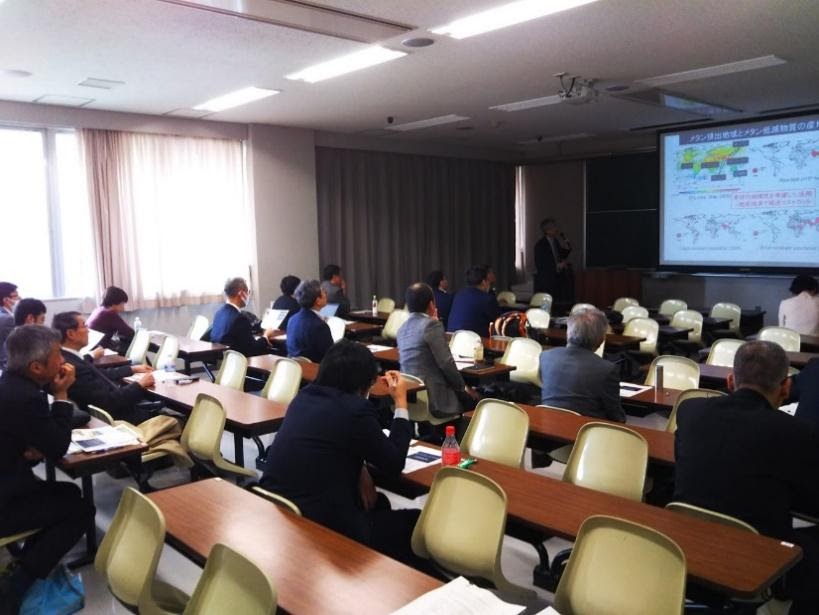 Moonshot Program
Japan has started an advanced research program called "Moonshot" in 2018. In the program, creation of the industry that enables sustainable global food supply by exploiting unused biological resources by 2050 was set as one of the program main goals (Moonshot Goal 5). A project "Realization of a new livestock production system to reduce methane by 80 % through complete control of the bovine rumen microbiome" was launched in 2020 to achieve the goal. This project aims to develop new feeds, additives, and a futuristic feed management system that can control rumen microbiome and animal nutrition on an individual basis by using advanced research methods such as smart pills to monitor rumen environment in real time and AI analysis. Japan hopes to share valuable achievements of the project with GRA community.