Training of Trainers on Digital Climate Advisory Services (DCSA) in West Africa
12729

Training of Trainers on Digital Climate Advisory Services (DCSA) in West Africa
December 8, 2022
@
9:00 am
–
December 9, 2022
@
5:00 pm
GMT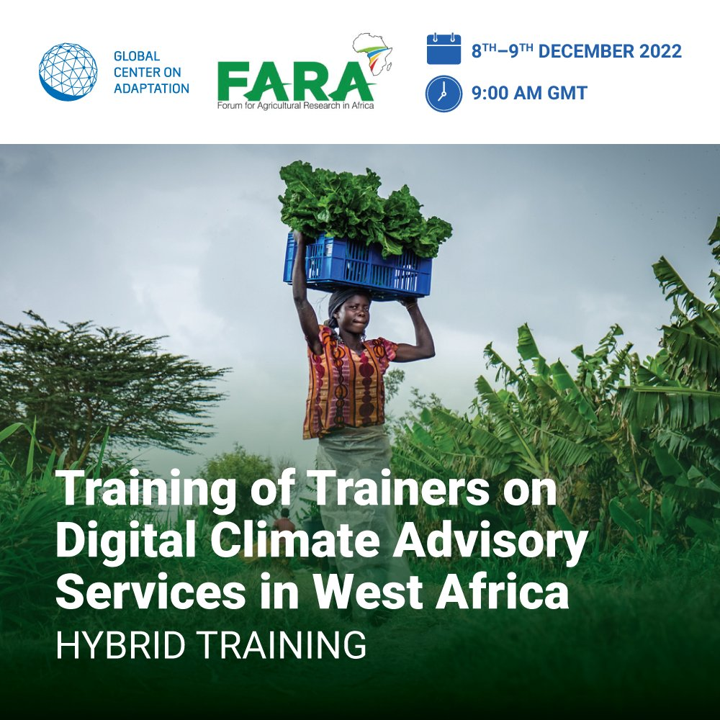 The Global Center on Adaptation (GCA) in Partnership with the Forum for Agricultural Research in Africa (FARA) is putting together the "Training of Trainers on Digital Climate Advisory Services (DCSA) in West Africa".
The training is scheduled as follows:
– Date: December 8th and 9th 2022
– Time: 09:00 am [Daily] Greenwich Mean Time
Kindly register for this training using the zoom link HERE.
After registering, you will receive a confirmation email containing information about joining the training.
Training Conditions:
1. The trainee should be a national from any of the West African countries (Anglophone or Francophone).
a. Trainee should be a postgraduate student; staff of the national research or extension institute, university, NGO; enthusiast of climate change issues, etc.
b. Trainees should have a modest knowledge of ICT use in agriculture.
2. All virtual trainees will be admitted into the West Africa Cohort of Trainers on Digital Climate Advisory Services (DCSA).
3. All trainees will be given a certificate of training [Terms and conditions apply].
a. Issuance of the certificate will be contingent on 75% time participation in the online training.
b. Completion of the training assessment test.
4. Kindly complete the personal assessment survey for the training, using the google link HERE.
Kindly help share this with anyone within your network who may be interested in this training