Webinar: Carbono orgánico en sistemas ganaderos de América Latina
13183

Webinar: Carbono orgánico en sistemas ganaderos de América Latina
August 17
@
9:00 am
–
12:00 pm
Montevideo, Uruguay
The FAO Livestock Environmental Assessment and Performance (LEAP) Partnership and the Global Agenda for Sustainable Livestock (GASL) are calling for experts in Latin America to participate in the upcoming webinar series on soil carbon stocks and stock changes in the region:
Uruguay: Thursday, 17 August in Spanish
Argentina: Thursday, 24 August in Spanish
Brazil: Tuesday, 29 August in English
Colombia: Thursday, 31 August in Spanish
Register to join the first webinar via the link below.
Agradecemos se puedan inscribir en el siguiente link: https://forms.office.com/r/hmV2CJgUkC
More information HERE.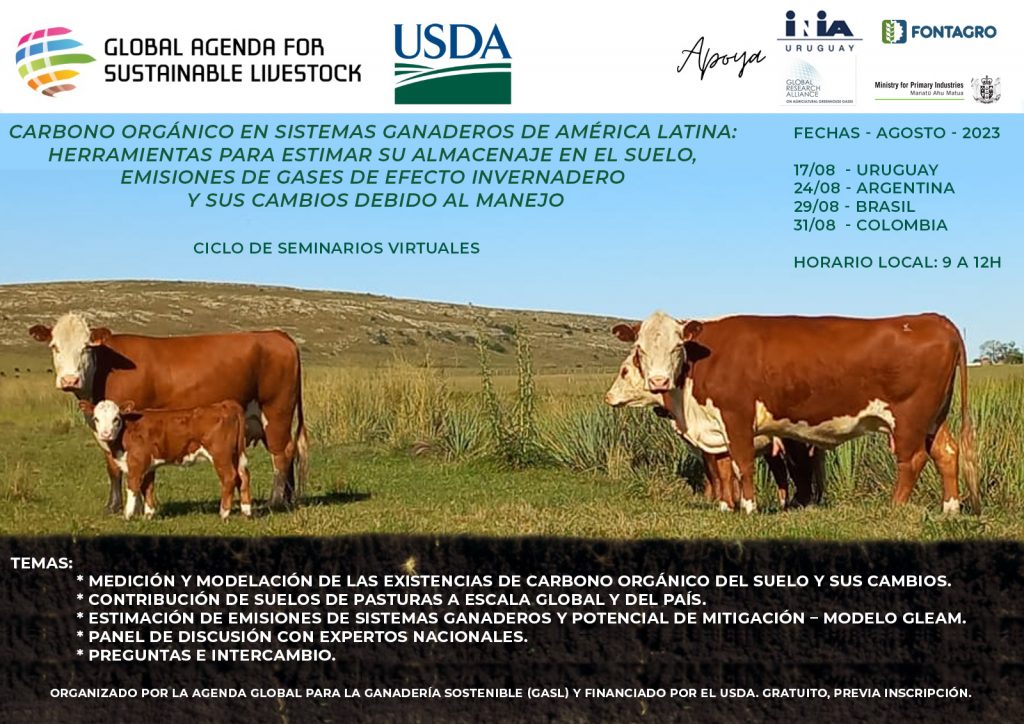 Hola, lo invitamos a unirse al seminario web Zoom.
Cuando: 17 ago. 2023 09:00 a. m. Montevideo – URUGUAY
Tema: Carbono orgánico en sistemas ganaderos de América Latina.
Haga clic en el enlace a continuación para unirse al seminario web:
https://us06web.zoom.us/j/81355135546?pwd=M3JjT1poeEdmRndUeVh0Njl2ang3dz09
Código de acceso: 110331
hora (UY)
Tema
Ponente
9:00-9:10
Bienvenida e IntroducciónAgenda Global para la Ganadería SostenibleLa Alianza sobre la Evaluación Ambiental y el Desempeño de la Ganadería LEAP
Eduardo Arce Diaz FAO GASLXiangyu Song – FAO LEAP
9:10-9:20
Ganadería Sostenible: Aplicación de herramientas para la estimación de carbono orgánico y su significancia en Uruguay
AutoridadesWalter Baethgen -Vicepresidente de INIA, IRI Columbia
Módulo 1:
Almacenaje de carbono en el suelo
9:20-9:45
Medición y Modelación de las Existencias de Carbono Orgánico del Suelo y sus cambios en sistemas de producción ganadera – Las Guías LEAP y su aplicación local
Virginia Pravia – INIA, FAO GASL
9:45-10:10
Abordaje de la contribución de suelos bajo pasturas a escala global y del país
10:10-10:40
Panel de discusión:Existencias de carbono en suelos de pastizales de Uruguay y sus cambios debido al manejo: Experiencias en predios comerciales y estimaciones a nivel país
Gervasio Piñeiro – UdelaR y FAUBAOscar Blumetto INIAWalter Baethgen – INIA, IRI ColumbiaAndrés Beretta – DGRN –MGAP
Modulo 2
Estimación de emisiones de sistemas ganaderos y potencial de mitigación
10:45-11:05
Global Livestock Environmental Assessment Model
Armando Rivera – FAO GLEAM
11:05-11:30
Panel de discusión:Oportunidades y desafíos en sistemas ganaderos de Uruguay
Laura Astigarraga – Fagro-UdelaRVerónica Ciganda – INIAWalter Oyhantcabal – GASL-IICA-SARASGonzalo Becoña – INIA-MGAP/OPYPA
11:30-12:00
Preguntas del público y discusión general
12:00
Cierre