Webinar: Developing methane inhibitors for grazing livestock on NZ farms
11226

Webinar: Developing methane inhibitors for grazing livestock on NZ farms
December 6, 2021
@
1:00 pm
–
2:00 pm
NZDT
Join the NZAGRC State of Science webinar on 6 December 2021 to learn more about "Developing methane inhibitors for grazing livestock on New Zealand farms".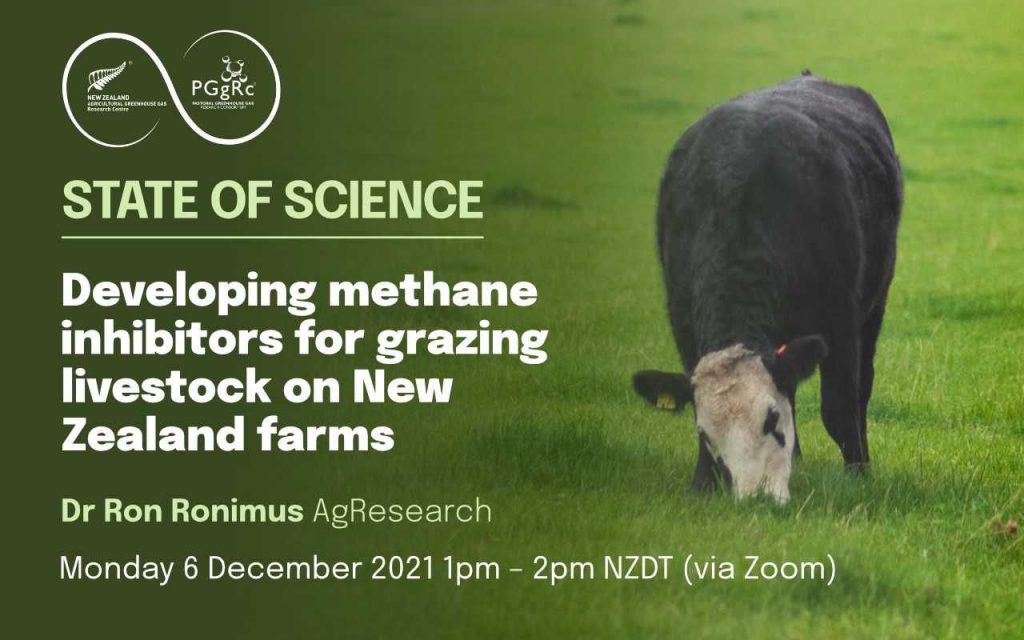 Methane inhibitors or feed additives offer a real opportunity to lower emissions by reducing the activity of methane-producing microbes in the digestive systems of ruminant livestock. This mitigation strategy is most effective when the additive is in every mouthful of feed and can reduce methane produced during rumen fermentation.
However, daily administration comes at a practical and economic cost. Globally, two potential feed additive options have emerged in the last few years – Bovaer by DSM and a seaweed species from FutureFeed in Australia. Both have been demonstrated to be effective in total mixed ration systems where feeds are provided to ruminants daily and the additive can be formulated into the feed.
While this is encouraging, their application in New Zealand's farming systems is a challenge. Research funded by the Pastoral Greenhouse Gas Research Consortium (PGgRc) is helping overcome this – investigating highly potent compounds that can be provided to animals through long-life (>100 days) intra-ruminal devices.
Ron Ronimus will give an update on progress in this quest supported by Mark Aspin providing a commercialisation and delivery perspective, outlining the challenges that have been overcome – and those that remain.
During the webinar, participants will have the opportunity to ask Ron and Mark questions using Zoom's chat function. They will use the final 20 minutes of the session to answer as many questions as possible. The Chair will select and ask questions on participants' behalf.
Click HERE for more information and to register.