Webinar: HoloRuminant Joint Dissemination Network, Session 1
13232

Webinar: HoloRuminant Joint Dissemination Network, Session 1
September 5
@
11:00 am
–
12:00 pm
CEST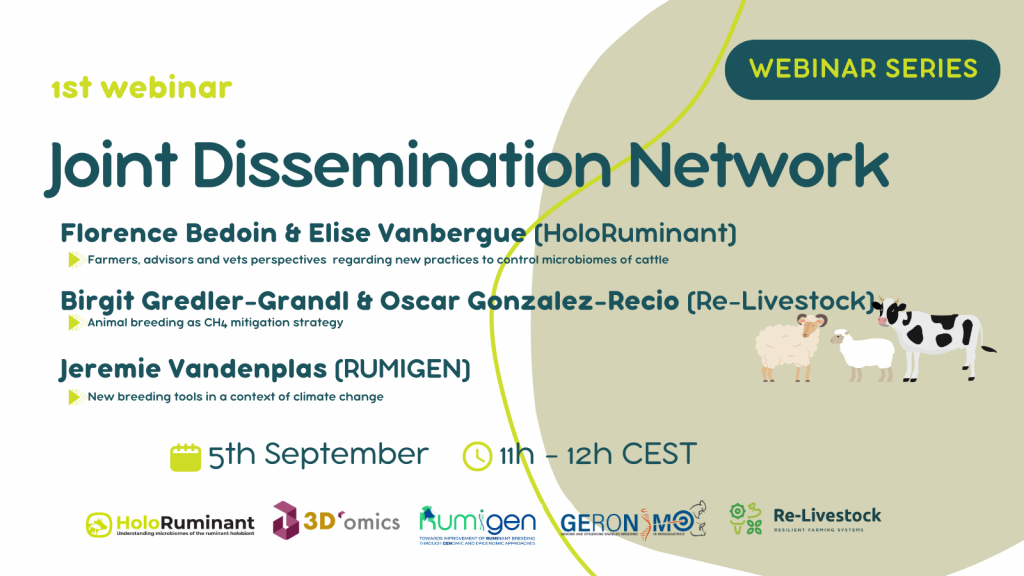 The HoloRuminant Joint Dissemination Network (JDN) consists of 5 projects representing a complementary effort to reduce the environmental and climate footprint of livestock production – while guaranteeing genetic diversity and efficient production in a more constrained environment – by focusing on the 
mitigation of GHG emissions improving the health and welfare of farmed animals and increasing the sustainability of animal production systems. The project group joins forces to provide an environment to optimize and share efforts. 

The network will host a webinar series to showcase the different projects' results. The series will include three sessions; the first will occur on the 5th of September, 11:00-12:00 CEST. In this session, we will be joined by:

Florence Bedoin and Elise Vanbergue (HoloRuminant): Stakeholders' views regarding new practices to control microbiome; Birgit Gredler-Grandl & Oscar Gonzalez Recio (Re-Livestock): Animal breeding as a CH4 mitigation strategy and Jeremie Vandenplas (RUMIGEN): " New breeding tools in a context of climate change".

Registration details for all webinars can be found HERE.

The second webinar will be on the 19th of September (gut microbiome in monogastric), and the third and final (NGT for PLF traits) on the 3rd of October.