Webinar – Indicators to measure circularity: developments & considerations
13127

Webinar – Indicators to measure circularity: developments & considerations
September 15
@
10:00 am
–
11:00 am
CET
SAVE THE DATE! The Circular Food Systems Network is organising a webinar this coming September on indications for circular food systems.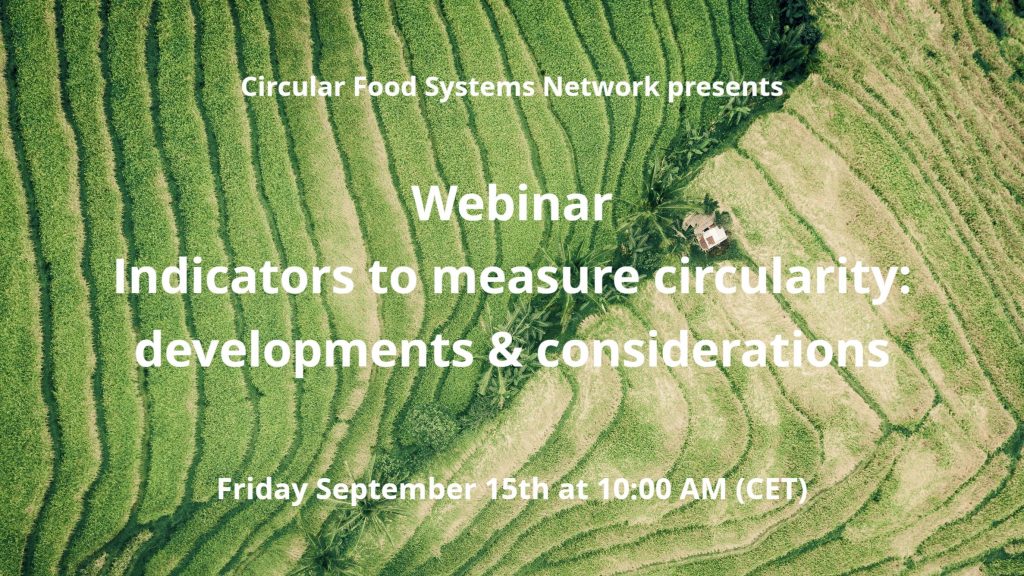 On September 15th, we would like to discuss with you the questions: can we measure circularity? How would we do that? And what are the limitations of using indicators? Indicators are a way to measure circularity of a food system, but are there alternatives? How important is it to measure circularity? How important is it to make circularity measurable – is that necessary or does that defeat the purpose of circularity in food systems?


LAUNCH WHITE PAPER 'CIRCULAR FOOD SYSTEMS AROUND THE WORLD'


On this date the whitepaper 'Circular Food Systems around the world' will be launched. This whitepaper is a product of our CFS network. Members of the network shared short communications on what circular food systems mean in different parts of the world. This white paper will present the opportunities and the next steps to advance CFS.


SNEAKPEAK OF THE PROGRAM


Throughout 2023, three projects funded by the CFS Network, focus on the development of indicators for circularity. During the webinar, the project leaders will present the scope of the projects, first insights, challenges, and preliminary results. Afterwards, the project leaders will be part of a panel to discuss indicators (and possible alternatives) to measure circularity. Moreover, we will discuss whether it is necessary to measure circularity.
Projects:
Circularity in Integrated Systems: Resource Recovery for Feed, Fuel and (Organic) Fertilizer Self-sufficiency in Ethiopia – by Carlos Brazao Alho
Benchmarking nutrient circularity at different scales: Using a food systems perspective – by Marloes van Loon
A holistic framework for assessment of circular food systems – by Vicki Burggraaf
SUBSCRIBE HERE
Please subscribe to the webinar and don't hesitate to share this event with your colleagues.
CFS network webinar – Indicators to measure circularity: developments & considerations (office.com)
---
JOINING INFORMATION
Join on your computer, mobile app or room device
Click here to join the meeting
Meeting ID: 356 182 163 065
Passcode: QfkGuy
Download Teams | Join on the web
This is a Microsoft Teams meeting.
---