Webinar: Future Farm Systems – shaping a low-emissions future for agriculture
12651

Webinar: Future Farm Systems – shaping a low-emissions future for agriculture
November 16, 2022
@
10:00 am
–
11:00 am
NZDT
Join the NZAGRC for the next of their State of Science webinars, this time focused on their research into options for mitigating agricultural greenhouse gas emissions.
---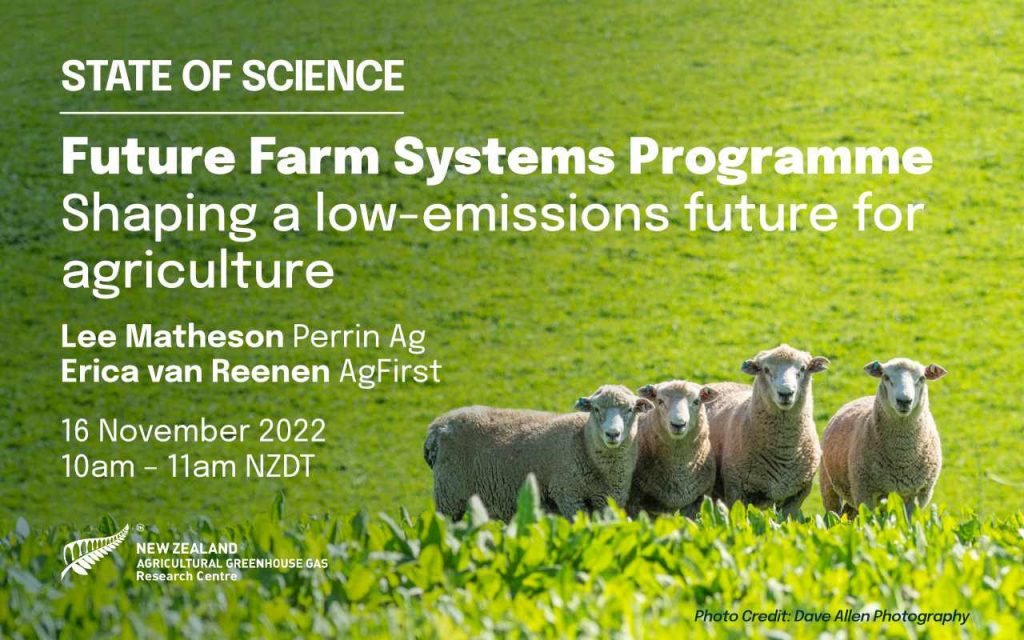 Topic: Future Farm Systems Programme – shaping a low-emissions future for agriculture
Presenter: Erica van Reenen (AgFirst) and Lee Matheson (Perrin Ag)
Chair: Nicky Hyslop (Farmer Director, Beef + Lamb New Zealand Board and member of the NZAGRC's Stakeholder Advisory Group)
In mid-2022, after a year-long scoping phase, the NZAGRC launched a new 'Future Farm Systems' research programme. This imagines what a low emissions future might look like, including exploring more radical system changes that could be implemented to help the sector meet the Government's 2050 climate targets.
This webinar is an opportunity to hear from programme leaders, Lee Matheson (Perrin Ag) and Erica van Reenen (AgFirst Manawatu-Whanganui), on how the research is coming together and what outcomes are anticipated.
This webinar is relevant to researchers, farmers and growers, rural professionals, policy advisors and anyone else involved or interested in efforts to reduce greenhouse gas emissions from New Zealand's primary sector.
---