Webinar: Progress towards low methane dairy sires (NZ)
12478

Webinar: Progress towards low methane dairy sires (NZ)
August 22, 2022
@
1:00 pm
–
2:00 pm
NZST
Join the NZAGRC on 22 August 2022 for their next State of Science webinar on their research into options for mitigating agricultural greenhouse gas emissions.
---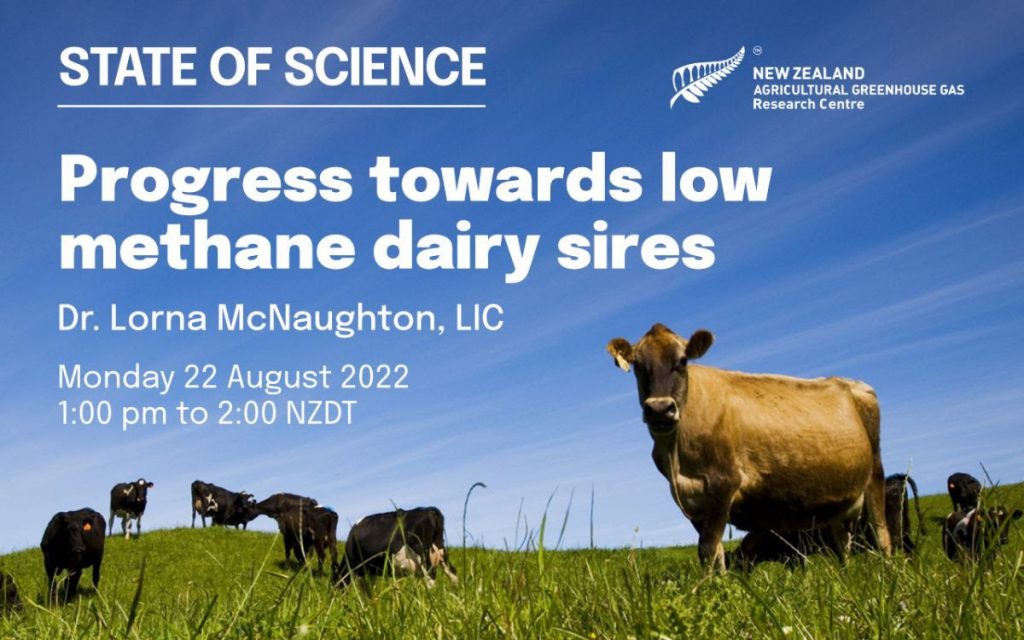 With New Zealand sheep breeders now able to measure and rank their animals based on their methane emissions, scientists are now investigating whether the same can be achieved for cattle.
Lorna McNaughton from Livestock Improvement Corporation (LIC) will provide an update on the progress in developing a breeding programme for low-emitting dairy cattle. This work began in 2021 when LIC and CRV started measuring methane emissions and feed intake in their progeny test bulls. Lorna will outline the three-year programme, including sharing results from the first year. Future research and possible implementation plans will also be discussed.
During the webinar, participants will have the opportunity to ask the presenters questions using Zoom's chat function. Lorna will use the final 15 minutes of the session to answer as many questions as possible. The Chair will select and ask questions on participants' behalf.
Who should participate?
This webinar is relevant to researchers, farmers, rural professionals, policy advisors and anyone else involved or interested in efforts to reduce greenhouse gas emissions from New Zealand's primary sector.
---