New publications from the Research Groups
Three Research Groups of the GRA, Croplands, Livestock and Paddy Rice, have each produced an easy-to-read overview of their group activities and structure.
Each of the brochures cover the six areas of work that the GRA focuses on: understanding the current research landscape, building capability, good practice guidance and methodologies, research networks and databases, collaborative research, and policy support & links to international initiatives.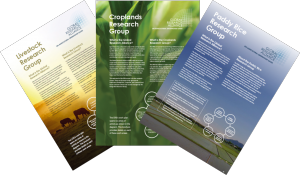 More information on each of the Research Groups can be found on the GRA website.