You've reached the Swiss page of the Global Research Alliance
Switzerland is affected by climate change in various respects, from more frequent landslides with less permafrost in the mountains, to extreme climatic events like hot and dry summers or heavy rainfall and storms. In 2015, Switzerland declared their intention to halve their greenhouse gas (GHG) emissions by 2030. Due to a large population of cattle as the dominant livestock category in Switzerland, the contribution of livestock-derived emissions is comparably high.
Switzerland has signed the Kyoto protocol and has implemented a strict environmental policy for several decades. Livestock agriculture, economically the most important agricultural sector, is under scrutiny for its various environmental impacts. The focus is now on 1) maximum livestock densities per hectare, 2) closed farm nutrient balances, and 3) technologies for mitigating ammonia emissions. No special treatment of the problem of GHG emissions has been implemented so far; however in 2011 the "Climate Strategy Agriculture" was put up and a number of elements of this strategy will be implemented gradually.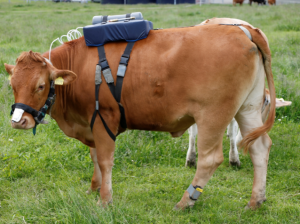 Right: Limousin cattle grazing alpine pastures and equipped with a device to measure methane emissions (image: Agroscope)

Switzerland sees the Global Research Alliance on Agricultural Greenhouse Gases (GRA) as one helpful instrument to be able to meet its ambitious mitigation goals because it expects to learn from the successful approaches of other countries and profit from mutual experience. It also offers to share its experiences with other countries having a similar landscape (mountainous) and climate. In addition, Switzerland expects and has experienced progress in research on GHG mitigation by multinational projects facilitated by the GRA.
Alliance Contacts
The Swiss Federal Office for Agriculture (FOAG) represents Switzerland in the GRA.