Webinar: Commissioning and managing agriculture inventory research projects
12299

Webinar: Commissioning and managing agriculture inventory research projects
July 5, 2022
@
6:00 pm
–
7:30 pm
GMT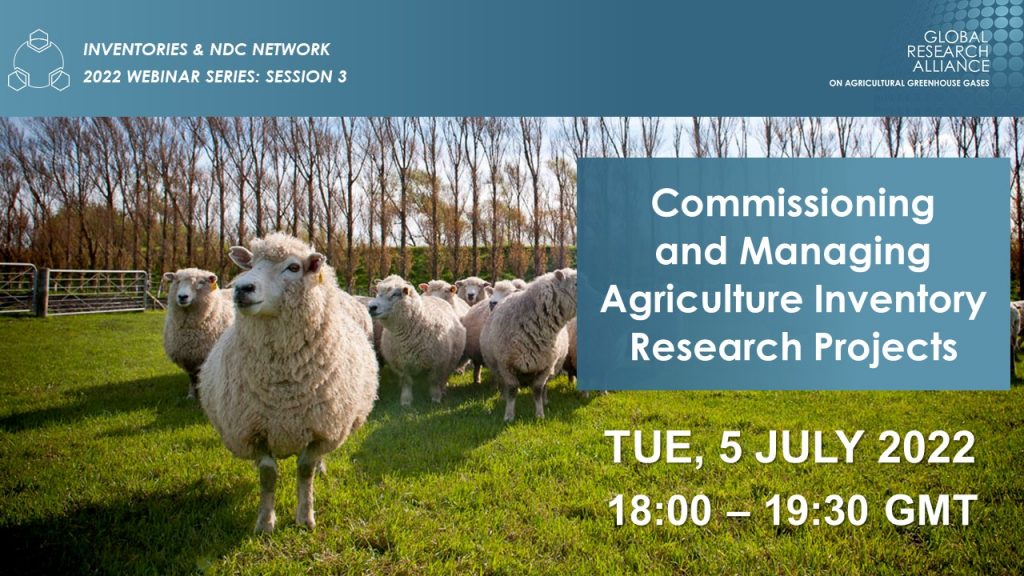 Join the Inventories and NDC (I&NDC) Network on 5 July from 18:00 – 19:30 (GMT/UTC) for the third session of their 2022 webinar series titled "Commissioning and managing agriculture inventory research projects".
It is crucial to effectively determine research priorities when resources for research are limited. Developing multilateral research projects and working with international research organisations facilitates collaboration across countries with similar production systems and agricultural circumstances.
In the first part of the session, we will hear from experts on the process of designing research to meet inventory needs and ensuring new research results in inventory improvements. In the discussion, we will consider multinational research prioritisation: timing, scaling and developing research projects with higher global relevance.
Speakers include:
Chair: Claudia Arndt, ILRI, Kenya
Carlos Gomez, Universidad Nacional Agraria La Molina, Peru
Joel Gibbs, Ministry for Primary Industries, New Zealand
Heinz Flessa, Thünen Institute, Germany
Sanaa Enkhtaivan, International Consultant, Switzerland
---
Speaker Biographies
Joel Gibbs, Agriculture GHG Inventory Team Leader, New Zealand
Joel Gibbs leads New Zealand's agriculture inventory team and directs the national inventory research procurement process. For several years Joel has been increasing the visibility of the New Zealand's inventory research needs and established strong research relationships with the national and international GHG science community. He has secured funding for national and multilateral research projects with countries with similar agricultural production to New Zealand. Joel subsequently led the incorporation of many recommended changes to improve the accuracy of New Zealand's emission estimates. He is a qualified UNFCCC expert inventory reviewer and has participated in several international reviews.
Heinz Flessa, Director, Thünen Institute, Germany
Heinz Flessa is currently the Director of Thünen Institute and previously directed Thünen's Institute of Agricultural Climate Research. Through his research as a Temperate and Boreal Soil Scientist, Heinz has worked for several years alongside the German inventory team and was one of the lead contributors to Germany's first national soil inventory. His research interests include carbon and nitrogen dynamics in soils, soils as sources and sinks of greenhouse gases, the effects of land use and climate change on element dynamics in terrestrial ecosystems and stable isotopes in biogeochemical research. Heinz has led the coordination of and contributed to several research projects related to climate protection in agriculture, the effect of land use, management, and site conditions on GHG emissions and controls of carbon and nitrogen dynamics in soils.
Carlos Alfredo Gomez Bravo, Principal Professor, Universidad Nacional Agraria La Molina, Peru
Carlos Gomez has been a Professor and researcher at the Faculty of Zootechnics of the La Molina Agrarian University since 1980, specializing in sustainable livestock production and ruminant nutrition. Carlos worked closely with Peru's national inventory team for several cycles, both contributing to accounting and leading research projects to improve Peru's inventory estimates. He has directed and contributed as a researcher to several development projects related to livestock production, in coordination with different institutions such as the International Atomic Energy Agency (IAEA), the Food and Agricultural Organization (FAO), Swiss Federal Institute of Technology Zurich (ETH), International Potato Center (CIP), the International Livestock Research Institute (ILRI), and the World Bank (WBO). Carlos is currently the Coordinator for Peru of the International Comparison Farm Network – Dairy Products IFCN.
Sanaa Enkhtaivan, International Consultant and AFOLU MRV Specialist, Switzerland
Sanaa Enkhtaivan previously led Mongolia's AFOLU inventory team and the development of a Tier 2 livestock inventory that will be used in Mongolia's next national submission. Her specific expertise is on agriculture policies and measures, mitigation actions and their effects, projections of GHG emissions and research and systematic observation for the AFOLU inventory. Sanaa is a qualified UNFCCC expert reviewer and has participated in several international inventory reviews. Sanaa is currently based in Switzerland, consulting on related international projects.
---