Webinar: The policy relevance of national GHG inventories in guiding mitigation for agriculture
12042

Webinar: The policy relevance of national GHG inventories in guiding mitigation for agriculture
May 24, 2022
@
1:00 pm
–
2:30 pm
GMT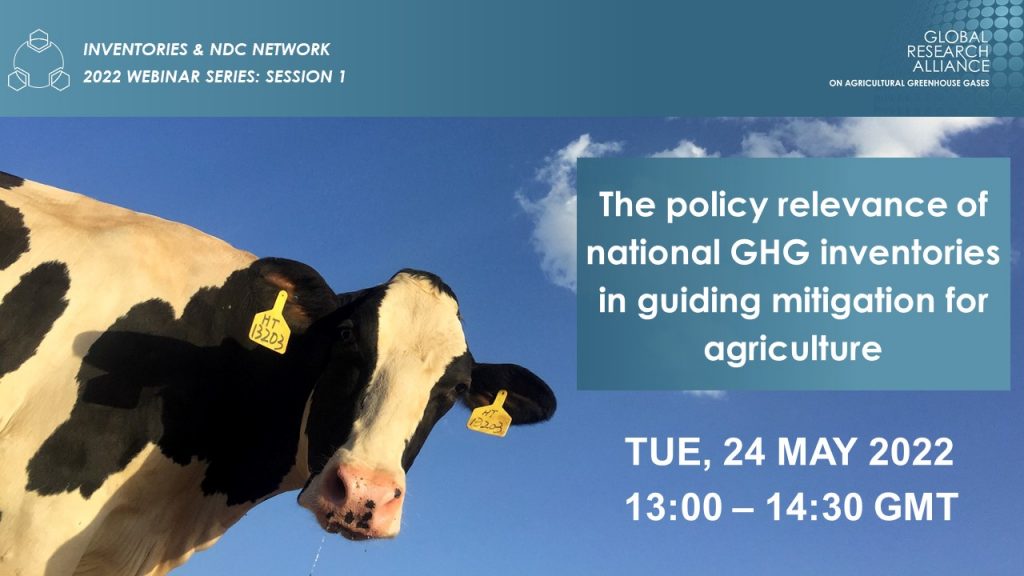 Join the Inventories and NDC (I&NDC) Network on 24 May from 13:00 – 14:30 (GMT/UTC) for the first session of their 2022 webinar series titled "The policy relevance of national GHG inventories in guiding mitigation for agriculture".
This webinar will bring together leading experts and industry stakeholders to discuss the relevance of national agriculture inventories in guiding policy decisions and questions including:
Why are agriculture GHG inventories so crucial for policy decisions?
How can industry organisations and the inventory work together?
What is the relationship between climate finance, research, and national agriculture inventories?
We will discuss the political dimension of inventories in the context of decisions on agriculture emission mitigation policies, determination of national emission targets, sector goals for voluntary or mandated emission targets and more.
---
Agenda
Item
Speaker(s)
Welcome & opening

I&NDC Network Co-leads
Hayden Montgomery
Overview of National Agriculture GHG Inventory
Marta Alfaro
Industry Perspectives

Brian Lindsay
Brenna Grant
Policy, Science and Negotiation Perspectives


George Wamukoya
Alvaro Roel
Herwig Ranner
Panel Discussion and Q&A
All
---
Speaker Biographies
Chair: Hayden Montgomery, Special Representative at Global Research Alliance on Agricultural Greenhouse Gases / Agriculture Programme Director at Global Methane Hub
Marta Alfaro, Chilean Agriculture Inventory Team Leader / INIA Researcher
Dr. Marta Alfaro is a researcher at the Instituto de Investigaciones Agropecuarias (INIA) in Chile. Her research field is nutrient cycling and GHG emissions from livestock systems. She has led national and international grants to develop country-specific emission factors, generate strategies for improving adaptation/mitigation in the agriculture sector, and provide training and capacity building for Latin-American countries. She has received national and international scientific awards and recognitions from scientific societies. She currently leads the team that estimates the Chilean agricultural sector inventory of GHG. She is a member of the roster of experts for the review of GHG inventories of Annex I Parties from the UNFCCC, and member of the Emission Factor Database Editorial Board from the IPCC. She has been recently appointed as a member of the Scientific Council for Sustainable Agriculture of the Chilean Ministry of Agriculture. Marta also is the nominated representative of Chile as the Chair of the GRA Council for the 2022 – 2023 term.
Brian Lindsay, Director of Dairy Sustainability Framework / Global Sector Lead of the Global Dairy Platform
Brian is the Director for the Dairy Sustainability Framework (DSF), launched in November 2013. This program covers 30% of global milk production and is open to all milk producing regions of the globe. Brian is also responsible for a Board of nine global (Global Dairy Association CEO's) directors and the coordination of the DSF multi-stakeholder advisory Group who both challenge and support the DSF Board and subsequent DSF operational procedures. Additionally, Brian is Global Dairy Platform's (GDP) Global sector Lead for Sustainability. This involves reviewing new science, responding to global food industry and political consultations at a number of levels, providing position statements on behalf of the global dairy sector. The GDP's Board is made up of CEO's of the world's major dairy companies such as Dairy Farmers of America, Fonterra, Arla Foods, Mengniu and Friesland Campina.
Brenna Grant, Executive Director, Canfax & Canfax Research Services (divisions of the Canadian Cattlemen's Association)
Brenna oversee's Canfax Research Services (CRS) which provides the Canadian beef industry with comprehensive statistical and market information on the domestic and global beef trends. Brenna is passionate about providing information to beef producers in Canada to make better decisions. Finding data sources, researching and analyzing what is available to provide a clear story and forecast the risks along the way. She is currently the Chair of the Statistics Canada Agriculture and Food Advisory Committee and Chairs the Global Roundtable for Sustainable Beef's Science Committee on Climate. CRS focuses on global and long-term outlooks; performance measurement for marketing and research; economic and market research. In 2015, CRS completed the first economic assessment of the Canadian beef industry for the Canadian Roundtable for Sustainable Beef and in 2021, CRS launched the Canadian Cow-Calf Cost of Production Network.
George Wamukoya, African Group of Negotiators Experts Support (AGNES)
George has over 30 years' experience and expertise in formulation of international, regional and national policies. He is the Team Leader, African Group of Negotiators Experts Support (AGNES). George was among the 11 Co-Facilitators that facilitated negotiations that resulted in the adoption of the Paris Agreement on Climate Change. He co-facilitated UNFCCC negotiations on Nationally Determined Contributions Common Time Frames and is a lead negotiator on issues related to agriculture on behalf of the African Group of Negotiators (AGN). George has served as Climate Change Advisor to the Common Market for Eastern and Southern Africa (COMESA), GIZ-CAADP Support Programme of the African Union Development Agency (AUDA-NEPAD) and DFID funded Regional Programme on Climate Smart Agriculture in Eastern and Southern Africa. For many years George was part of the legal experts that implemented UNEP's Training Programme of Judges, Magistrates and Prosecutors on the implementation of environmental laws in Africa. George was the Joint Secretary to the National Committee on the Implementation of the Environmental Management and Coordination Act (EMCA) which established the National Environment Management Authority (NEMA-Kenya). George holds a doctorate degree in law and is a recipient of the Presidential Award of the Order of the Grand Warrior (OGW) for outstanding work in environmental conservation.
Alvaro Roel, INIA Uruguay, Researcher INIA National Rice Research Program / Co-lead of GRA Paddy Rice Research Group
During the previous 25 years, Alvaro has worked in alignment with national and public policy objectives whilst holding diverse positions in his field including research prioritization and administration and developing institutional vision and strategy. He has established strong private-public relationships among industry, government, and inventory stakeholders to advance global agriculture emission mitigation and quantification issues. Following his studies in ecology at the University of California-Davis, Alvaro occupied various positions at INIA Uruguay, including Regional Director, National Rice Research Program Director, and President of INIA's board. Alvaro led the team that calculated the first carbon footprint of the rice sector in Uruguay in 2012. In 2014, his team of scientists established country specific emission factors through their research measuring methane, nitrous oxide, and other nitrogen emissions along two rice growing seasons. Alvaro has been a long-standing member and Co-lead of the GRA-Paddy Rice Research Group (PRRG) since its creation in 2010. Alvaro's research currently focuses on determining environmental and productivity trade-offs of rice, with special emphasis on the effects of irrigation management in overall water use efficiency.
Herwig Ranner, Coordinator for Climate Change working in the Directorate General of Agriculture and Rural Development, European Commission
Following his studies in zoology, marine biology and marine biogeochemistry in Vienna, Marseille, the Dutch Oceanographic Institute and the Free University of Brussels, Herwig worked successively for environmental NGOs, a Member of the European Parliament and the European Seaports Organisation before starting at the European Commission. Since 2012 Herwig led the agriculture negotiations for the EU at the UNFCCC negotiations.
---