Article published on the development of the croplands literature database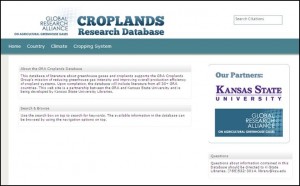 An article has been published in the Journal of Agricultural & Food Information about the development of a literature database for the Alliance's Croplands Research Group. The database allows members of the Croplands Research Group to search and upload references of published literature concerned with mitigating greenhouse gas emissions from croplands by country, climate or cropping system.
The database was developed by faculty and staff at Kansas State University Libraries in collaboration with Dr Chuck Rice of Kansas State University. The article covers the development and implementation of the database as well as lessons learned.
The Croplands Research Group is happy to have contributed to this published paper and is grateful to Chuck Rice and K-State for their partnership.
The article can be downloaded from the Journal of Agricultural & Food Information
Livia Olsen, Tara Baillargeon & Harish Maringanti (2012): Developing an Open Access Croplands Research Database Through Global Collaboration, Journal of Agricultural & Food Information, 13:1, 35-44.