Animal Health and Greenhouse Gas Emissions Intensity Network (AHN) is an international network focusing on the interplay between animal health and greenhouse gas (GHG) emissions from a systemic perspective.
Improved animal health contributes to greater gains in efficiency and productivity, which in turn helps reduce the greenhouse gas emissions (GHG) intensity of livestock farming.
AHN aims to bring together researchers, governments, non-governmental organizations, private sector from multiple backgrounds to:
discuss and find inter-disciplinary approaches to understand and tackle the impacts of climate change on animal health and the impacts of animal health on the environment. In this aspect, the interrelation of diseases with feeding, breeding, immune response and the consequential impacts on GHG emissions both in terms of emissions intensity and absolute emissions are of great interest to the Network (Figure 1).
advance the process of integrating animal health interventions to policy settings such as linking animal health data and disease surveillance systems to Tier 2 GHG inventories and the updates of Nationally Determined Contributions (NDCs).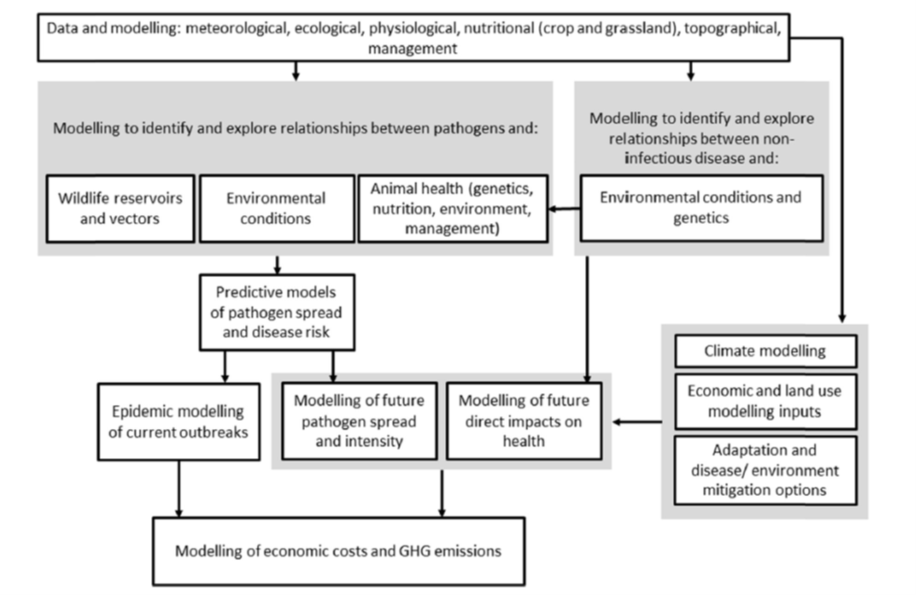 Planned Activities
The network is putting together a COST application (due October 2022)
The network is engaged in a policy brief on how to incorporate animal health interventions to climate policies
Past Activities
2022 Livestock Research Group Meeting
The annual meeting of the Livestock Research Group took place over 3 days on the 18th-20th October. This year, as with last, was an online format with the recordings available on YouTube.
On Day 1 we heard from Andy Reisinger the NZ Climate Change Commissioner Keynote on 'Methane, metrics, and mitigation: Insights from IPCC reports and recent literature' before hearing from a number of industry stakeholders; Donald Moore (Global Dairy Platform), Pania King (Kiriroa Station, Māori Farmers from Te Tairāwhiti) and Ruaraidh Petre (Global Round Table on Sustainable Beef) on 'Scientific challenges global organizations are facing to respond to the challenge of climate change'.
Day 2 very much focused on individual networks and GRA Flagship project updates, with Day 3 giving the Network Leads the opportunity to lay out their plans for the upcoming year. So, if you want to know more about the activities of the AHN and the other networks you can access all of the recordings here.
2022 AHN Workshop, Orlando, USA
2021 AHN Online Workshop
2016 AHN Third Annual Workshop, Elsinore, Denmark
2015 GRA Livestock Research Groups Networks Workshop, Reading, UK
2015 FACCE-JPI MACSUR/AHN Joint Workshop, Reading, UK
2015 AHN Second Annual Workshop, Montpellier, France
2014 AHN Regional Workshop, Addis Ababa, Ethiopia
2014 AHN First Annual Workshop, Dublin, Ireland
Relevant publications by members & further reading
Network coordinators brought together a list of papers relevant to the network activities that can be found here. Members are encouraged to send any updates on recent work related to the animal health and environment domain to the co-leads.
Relevant projects by members
Sustainable ruminant production: Feed, microbiome and immune efficiency in low and high methane emitting dairy cows. LINK
ClearFarm: Improving animal welfare through precision livestock farming (PLF) technology. LINK
Twitter account
Follow us at @AHN_GRA
Membership
According to the updated list of membership as of February 2022, the network has 44 members from 17 countries.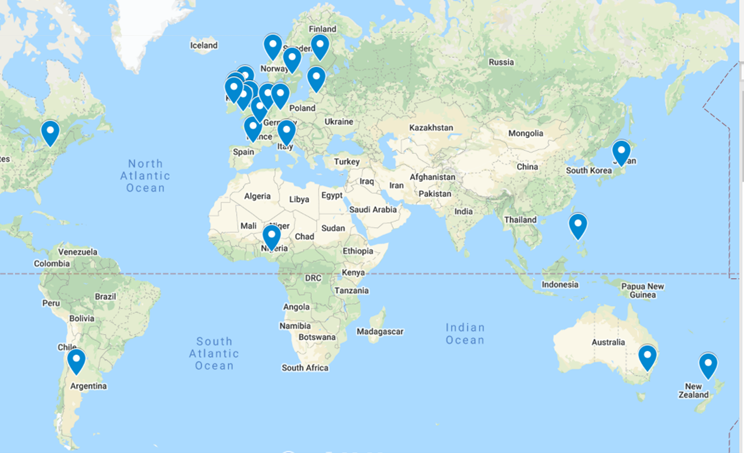 Contact co-leads to join the network and share experiences and ideas:
Relevant links
CLIFF-GRADS funds PhD students from developing countries to collaborate with a host Institution with equipment or expertise that benefits their project.