Webinar: National agriculture inventory data collection and management
12054

Webinar: National agriculture inventory data collection and management
June 14, 2022
@
6:00 pm
–
7:30 pm
UTC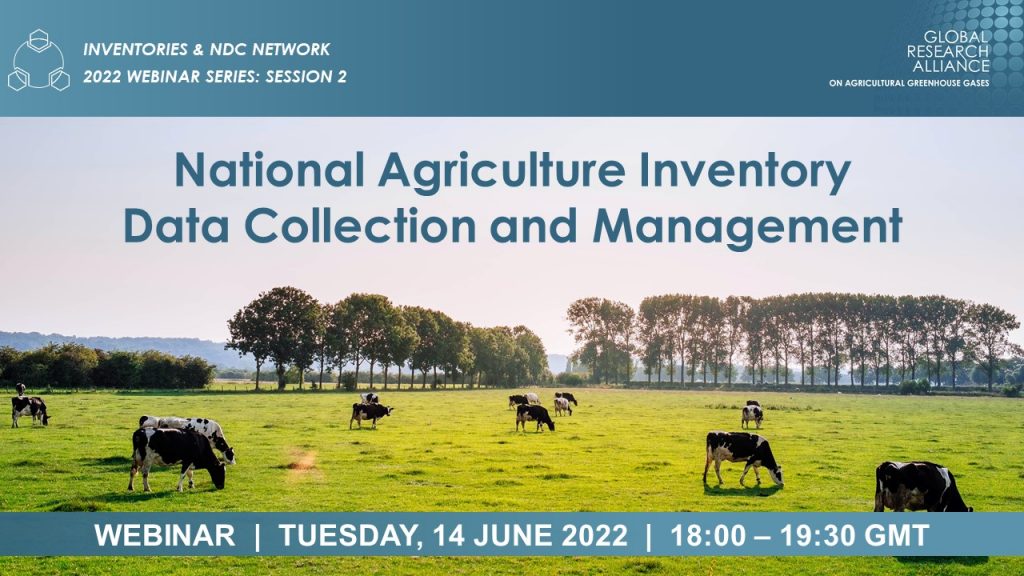 Join the Inventories and NDC (I&NDC) Network on 14 June from 18:00 – 19:30 (GMT/UTC) for the second session of their 2022 webinar series titled "National agriculture inventory data collection and management".
Policies for agriculture mitigation strategies, as we discussed in the first webinar of the I&NDC Network series, are shaped by accurate national agriculture emissions estimates. However, estimates are only as good as the data that underpin them. National activity data collection and its management is a universal challenge for compilers from Annex I and non-Annex II countries alike.
The aim of this webinar is to increase awareness on overcoming a lack of good quality data, and on setting up data management frameworks to support increasing emissions reporting from Tier 1 to Tier 2 levels. The session will bring together expert speakers whose work focuses on improving agriculture inventory activity data related issues.
---
Speaker Biographies
Andreas Wilkes – ASEAN and Africa Inventory Capability Building Programme Lead, NZAGRC
Andreas is leading New Zealand's Inventory Capability Building efforts in ASEAN and African countries and has extensive experience in livestock emission MRV and mitigation. Andreas was the lead author of the GRA FAO Livestock Activity Data Guidance which provides guidance on how to collect and analyze the activity data required for Tier 2 livestock GHG inventories. He will present some practical experiences from developing countries, and reflections on the implications for continuous improvement and research.
Stephen Ogle – Associate Director, Natural Resource Ecology Laboratory, CSU | Professor, Department of Ecosystem Science and Sustainability, CSU
Stephen's research focus is improving national GHG inventories, better understanding socioeconomic drivers of land use and management decisions, and predicting the likelihood of future GHG mitigation in agricultural lands. He has a keen interest in assisting governments in developing countries with improving their GHG inventories and has done extensive capacity-building work in over 20 countries, assisting national compilers with improving GHG inventories in Asia, Africa, Central America and South America. Stephen has contributed as an instructor to numerous science and government inventory training workshops. He was a contributing lead author for the 2019 IPCC Refinement to the 2006 IPCC Guidelines of Volume 4, AFOLU. Stephen led the development of the Agriculture and Land Use National GHG Inventory Software (ALU), a free downloadable tool for the estimation of national AFOLU inventories. Along with Dr. Richard Conant, he established the Master of Greenhouse Gas Management and Accounting Programme at CSU.
Luanne Stevens – Environmental consultant and GHGMI Fellow
Luanne has worked in the AFOLU inventory and MRV space for more than 15 years and has been the lead compiler for South Africa's AFOLU inventory since 2010. She supports developing countries to strengthen their capacity to compile inventories, develop mitigation projections, and develop NDCs and MRV systems. Luanne has been involved in capacity building projects across Africa (including Eswatini, Uganda, Tanzania, Lesotho). She is currently supporting the ICAT projects in Eswatini and Uganda, and was responsible for creating the capacity building modules for the ICAT Forestry and Agriculture Assessment Guides. In addition, she is the project manager for the IICA-GCF CARICOM AgREADY project in the Caribbean where she has been involved in assessing the role of agriculture in NDCs across the Caribbean, providing training to inventory compilers and data collectors, and assisting in the development of agriculture inventory improvement plans.
Sekai Ngarize – Senior Agriculture, Forestry and Other Land Use (AFOLU) and MRV Specialist
Sekai currently works as an international Climate and MRV consultant strengthening institutional capacity in developing countries for compliance with the Transparency Reporting Requirements of the Paris Agreement. She recently supported the Government of Zimbabwe to develop a revised economy wide NDC. She supported the UNFCCC/UNEP GSP on capacity building for developing countries in the AFOLU sector, including establishing national MRV systems and baseline projections in Swaziland (Eswatini) and Zimbabwe, Ethiopia, Suriname and Seychelles. She worked as the AFOLU Programme Officer for the IPCC Task Force on Greenhouse Gas Inventories (TFI) where she was responsible for the technical development of the IPCC 2006 Reporting Guidelines for AFOLU, and for providing methodological and technical guidance to experts involved in inventory compilation globally. She was an editor for the IPCC 2019 Refinement of the 2006 IPCC Guidelines. She worked as a Senior Science and Policy Advisor at the UK Department of Energy and Climate Change, and for the UK Department of Environment, Food and Rural Affairs (DEFRA), and represented the UK in international negotiations. She is an accredited UNFCCC expert reviewer for GHG inventories, and has reviewed the national inventories of the UK, South Africa, Namibia, Seychelles, Zimbabwe, Zambia, Lesotho, India, Indonesia, Swaziland (Eswatini), New Zealand, Iceland, Cyprus, Norway, Iceland, Poland and Czech Republic.
---