You've reached the New Zealand page for the Global Research Alliance
Globally, around 14% of all greenhouse gas (GHG) emissions come from agricultural activities; in New Zealand, the figure is nearly 50% (see inventory). Our emissions profile and our well-established scientific research programmes to mitigate GHG emissions from temperate pastoral livestock systems have made New Zealand a key contributor to the Global Research Alliance on Agricultural Greenhouse Gases (GRA).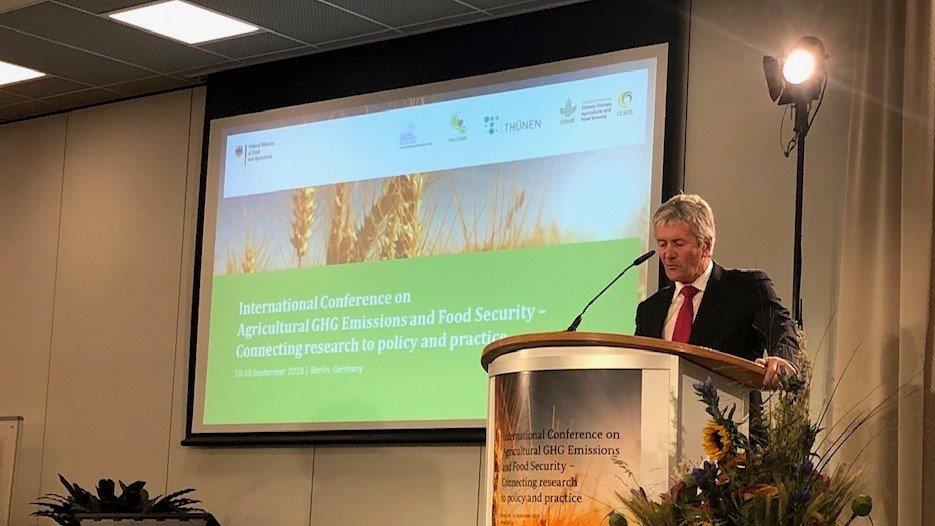 Right: Minister Damien O'Connor giving his welcoming speech at the Conference on Agricultural GHG Emissions and Food Security in Berlin, Germany 2018
The GRA aims to:
Share knowledge on current best practices to reduce the GHG emissions intensity of agricultural production.
Align existing agricultural GHG research programmes across Member countries to achieve greater outcomes than any one country alone.
New Zealand's involvement with the GRA also provides opportunities for our scientists to collaborate with renowned institutes and researchers from around the world, and to share knowledge and expertise with the global science community.
New Zealand's contributions to the Global Research Alliance
To support the GRA, New Zealand:
is a founding member
is host of the GRA Secretariat
is one of the Co-Chairs of the Livestock Research Group
was GRA Council Chair from June 2011- June 2012
The New Zealand Government committed $45 million to the work of the GRA in 2010 and has recently announced a further 20 million out to June 2020. This money is available to fund research in the area of greenhouse gas emissions mitigation in pasture-based temporal livestock systems. The investment is split into two categories: research & development and capability building.
New Zealand is represented in the GRA by the Ministry for Primary Industries (MPI), working closely with the environment and climate change groups from the Ministry of Foreign Affairs and Trade (MFAT) and the Ministry for the Environment (MfE). MPI contracts the New Zealand Agricultural Greenhouse Gas Research Centre (NZAGRC) to manage New Zealand's involvement in the Livestock Research Group and New Zealand's GRA science research activities.
On this page you will find information on New Zealand's research collaborations, and our capability building and engagement activities, to support the GRA.
New Zealand Alliance Contacts