Managing Agricultural Greenhouse Gases Network (MAGGnet)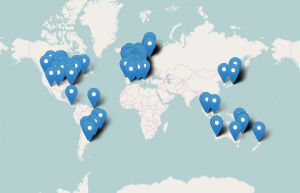 Advancing the science of greenhouse gas mitigation through a multi-national research effort facilitated by the Global Research Alliance
By employing a user-friendly spreadsheet template, MAGGnet seeks to compile metadata from experimental sites throughout the world where greenhouse gas (GHG) fluxes and soil carbon dynamics are monitored.  Priority is given to sites with published data.
Since 2012, MAGGnet has compiled metadata from over 337 experimental studies from 23 countries.  Metadata contributors include scientists engaged in the Croplands Research Group and its Soil Carbon Network, and the Paddy Rice Research Group of the GRA.
Read the article on MAGGnet published in Carbon Management (links to http://www.tandfonline.com/doi/full/10.1080/17583004.2016.1180586)
Joining MAGGnet
To obtain access to the latest versions of the MAGGnet metadata entry template and sharing agreement, please download the available files listed below:
Concurrent to the download of MAGGnet files, a courtesy email to the MAGGnet Coordinator would be greatly appreciated (contact information listed below).  Doing so will facilitate accurate record keeping of downloaded files, as well provide a conduit to more easily assist with potential questions associated with the network.
Contact Details
Mark A. Liebig, MAGGnet Coordinator
+1-701-667-3079
PO Box 459, Mandan, ND 58554 USA