Focused on reducing the greenhouse gas intensity and improving the overall production efficiency of cropland systems.
The Group will work together to find ways to limit the losses to the atmosphere of valuable carbon and nitrogen from crops and soils, and to transfer that knowledge and associated technologies to croplands farmers, land managers and policy makers around the world.
The vision of the Croplands Research Group is:
Widely available decision-support tools that enable reduced greenhouse emissions intensity from climate-resilient croplands, producing sustained or increased yields
Croplands that have greater soil carbon sequestration.
The Croplands Research Group has interest in a wide range of topics including crop species, mitigation through management practices and soil science.
Countries participating in the Group are each contributing to collaborative research programs and activities on greenhouse gas emissions from cropping systems, reflecting the global variety of crop types, diverse management practices, environmental conditions, and combination of such in mixed crop/livestock and agroforestry systems.
The main greenhouse gas emissions/pathways that are studied are carbon dioxide (CO2), methane (CH4), and nitrous oxide (N2O). Different management and technology strategies are being investigated to reduce greenhouse gas emissions in croplands, including factors of soil and climatic conditions, tillage and crop management variables, and crop type and varieties. Adoption of appropriate management and technologies by farmers is a strong emphasis.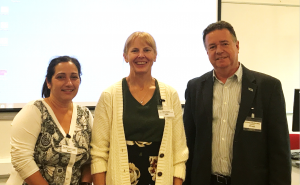 Croplands Co-Chairs Dr Mosquera (left), and Dr Martin-Neto (right) with previous co-chair Dr Johnson (centre) at the September 2017 Croplands Research Group Meeting
Croplands Research Group Co-Chairs