Aims to improve the evidence base and to better connect governments and relevant expertise to subsequently improve the quality of agricultural NDC's and the way their achievements are reflected by national GHG inventories.
Subscribe here to receive updates on the Network in the Inventories and NDC Network Newsletters.
In the context of agricultural greenhouse gas emissions, national greenhouse gas inventories remain the main tool connecting policy with mitigation.
However, many countries face major challenges with either a lack of relevant data or non-existent data to develop their own inventory. Only 5 out of 141 developing countries conduct a tier 2 inventory for their agriculture sector.
Further, increases in agricultural productivity and efficiency are not captured in developing nations' inventories and most national inventories do not account for direct mitigation technologies.
An objective of the Network is to facilitate international and national links across organizations, research institutes and government so that technical agriculture inventory expertise is accessible, shared and able to inform inventory development and emission mitigation efforts.
The Network shares new scientific information, knowledge, data and inventory methodologies to identify priorities for collaboration that improves the accuracy, comparability, completeness, consistency and transparency of emissions trends and potential emission reductions from mitigation actions.
The Network will focus on:
Increasing access to methods to improve the collection of activity data for emission estimates as well as inform the collection of greenhouse gas emission data where it has not previously been collected;
providing technical support and training, for capacity building and knowledge transfer;
building upon existing shared databases and developing new platforms where necessary;
building in-country capability and avoiding international consultancy.
GHG Inventory and NDC support activities in specific areas related to the other research groups have been carried out by those research groups. For further information on these activities can be found under the relevant Research Group pages.
The Livestock Research Group (LRG):
Paddy Rice Research Group (PRRG):
Membership
The Inventories and NDC Network comprises of 142 members across 66 countries and 7 partners.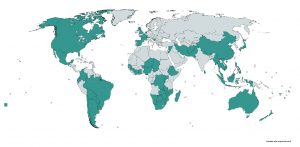 Contact:
For more information on the Inventories and NDC Network, please contact us via [email protected].